Doctor of Nursing Practice (DNP)
The DNP program prepares students to influence health care outcomes for individuals and patient populations by using evidence-based practice, evaluating and implementing health policy, developing new and innovative clinical systems, and becoming leaders in nursing.
Apply Now
In the past, advancing your nursing education to the doctoral level meant a career path in education or research. Today, due to the complexity of healthcare, doctorally prepared nurses are becoming increasingly important in clinical practice. By combining advanced practice nursing skills, appraisal and application of research, and leadership competence, you are empowered to become a more efficient and effective practitioner. DNP clinical experts collaborate with other professionals to make a positive impact in their community and in health care.
Concentrations
We offer the following concentrations within the DNP program:
The MSN-DNP Program is a hybrid online curriculum with on-campus visits twice per semester throughout the students' program of study… LEARN MORE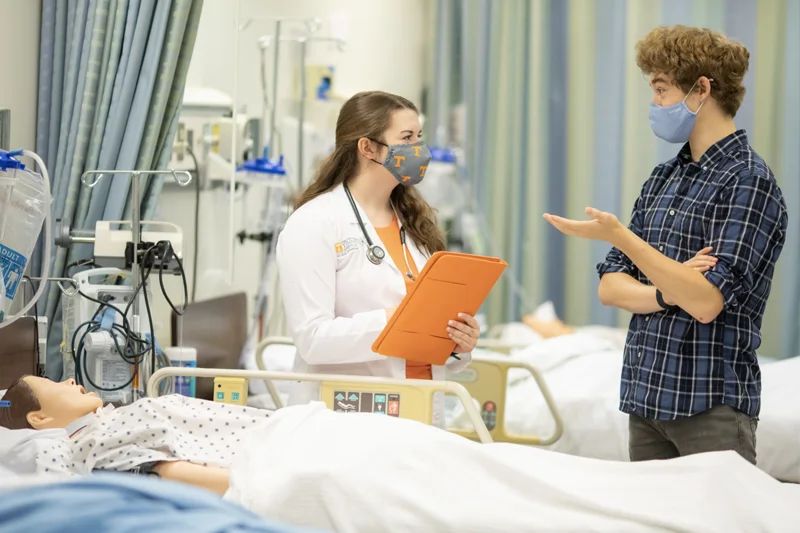 The nurse anesthesia concentration will permit the graduate an opportunity to take his or her place among the ranks of the highly respected CRNAs… LEARN MORE
ADMISSIONS
The application deadline for the 2024 admissions cycle is December 1. Applicants are typically notified of their admission decision five to six weeks after the application deadline. Notifications are sent by email.
The DNP program at the College of Nursing uses a holistic admissions process in which the applicant's essay and personal interview are given priority. These items are used to assess the applicant's previous educational and work-related accomplishments and their readiness for the DNP program. Career goals and areas of focus of the applicant are considered.
All prospective College of Nursing students must apply online through UT Graduate Admissions. Application materials must be submitted directly to Graduate Admissions prior to the application deadline.
A complete application consists of:
Online application and fee
Transcripts
Resume/CV
Recommendation forms
GRE scores, if required
TOEFL scores, if required
Nursing license
Zoom interview after all materials are received
Detailed information about specific admission requirements can be found in the Graduate Catalog.
It is your responsibility to ensure that your application is complete. You are strongly encouraged to check first with Graduate Admissions to see if all your transcripts and materials have been submitted properly. You can check the status of your application via the UT Graduate School Status Checker.
The University's Graduate Admissions office determines if the application meets the University's minimum admission requirements. If deemed minimally admissible, the application will then be reviewed by the College of Nursing. Graduate Admissions processes applications in the order of submission; due to the application queue, prospective students are strongly encouraged to submit applications well in advance of the College of Nursing's deadline. Applications will be reviewed upon submission.
If you have any questions, contact the College of Nursing Graduate Programs at congrad@utk.edu.
PROGRAM FEATURES
Immersion in an area of professional practice
Knowledge and skill acquisition for application
Appraisal and application of evidence to advance practice
Leadership in health care systems
Curriculum focused in evidence-based practice, leadership, population health policy, and quality improvement project planning
Blended curriculum delivery* combining face-to-face instruction and online learning, which has proven to be effective in terms of learning outcomes and student satisfaction
Individually tailored scholarly project in your area of practice and interest
Scholarly project funding available by application
Colloquium, a time for DNP and PhD students and faculty to share and discuss their topic of interest
A faculty that includes expert clinicians, educators, and nurse executives
Faculty commitment to guiding students through the project development and implementation process
Full accreditation by CCNE
*600-level nursing courses in the PhD and DNP programs are offered in a flexible blended format. The blended format consists of two coordinated on-site face-to-face course sessions per term complemented with live online group and collaborative discussions and activities; structured asynchronous individual, group, and self-directed work; and individual guidance, mentoring, and advising. Students in clinical concentration courses will have variable schedules.
CATALOG
OPEN HOUSES
Information regarding open houses will be released as details become available.
MORE INFORMATION